Diwali Aatish Bazi Widget Apne Blog Me Kaise Lagaye. Hello dosto agar aap kisi blog ya website ke owner hai to aap ko ye post bahut jada pasand aayegi kyu ki aaj hum log janege ki Diwali, New Year ya kisi aur dushre festival par hum apne blog me Aatish Bazi Widget kaise add kare. Hum akshar apne festival par bom patakhe chor kar bahut khus hote hai to phir hum log apne blog par bhi kyu n bom patakhe chor kar khusi ka anand manaya jaye. App sabhi ko hamre taraf se Diwali aur Chhath Puja ki Hardik ShubhKamnaye.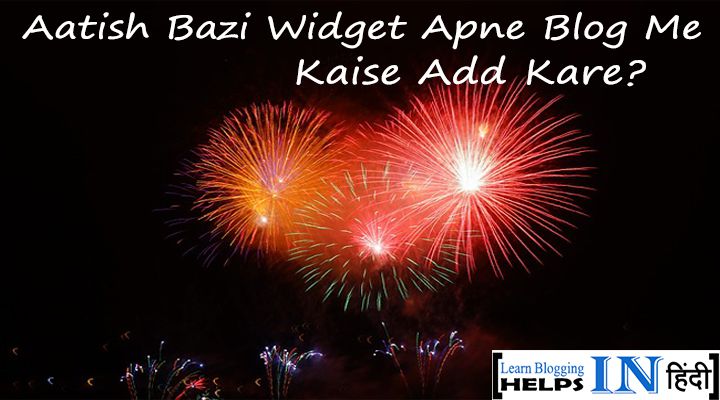 Aatish bazi widget apne blog me lagana bahut hi aasan hai, aap ko sirf apne blog me kuch code paste karne hoge. To phir chaliye ab hum jaan lete hai ki apne blog me aatish bazi widget kaise add kare.
Aatish Bazi Widget Apne Blog Me Kaise Lagaye Step by Step……
Step 1: App blogger.com me login ho jaye. Login hone ke baad app Dashboard>>Layout pe jaye.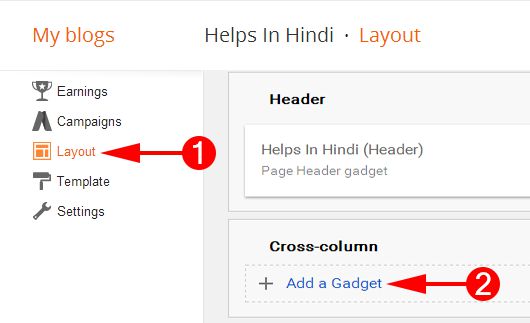 Ab aap yaha Add a Gadget pe click kare.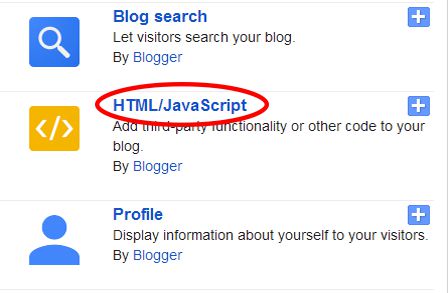 Ab app yaha HTML/JavaScript ke upper click kare.
Step 2: HTML/JavaScript pe click karne ke baad new window open hoga app ko usme kuch code paste karna hai.
<script type="text/javascript">//<![CDATA[
function write_fire(e){var t,n,r;stars[e+"r"]=createDiv("|",12);boddie.appendChild(stars[e+"r"]);for(t=bits*e;t<bits+bits*e;t++){stars[t]=createDiv("*",13);
boddie.appendChild(stars[t])}}function createDiv(e,t){var n=document.createElement("div");n.style.font=t+"px monospace";n.style.position="absolute";n.style.
backgroundColor="transparent";n.appendChild(document.createTextNode(e));return n}function launch(e){colour[e]=Math.floor(Math.random()*colours.length);Xpos
[e+"r"]=swide*.5;Ypos[e+"r"]=shigh-5;bangheight[e]=Math.round((.5+Math.random())*shigh*.4);dX[e+"r"]=(Math.random()-.5)*swide/bangheight[e];if(dX[e+"r"]>1.25)
stars[e+"r"].firstChild.nodeValue="/";else if(dX[e+"r"]<-1.25)stars[e+"r"].firstChild.nodeValue="\\";else stars[e+"r"].firstChild.nodeValue="|";stars[e+"r"]
.style.color=colours[colour[e]]}function bang(e){var t,n,r=0;for(t=bits*e;t<bits+bits*e;t++){n=stars[t].style;n.left=Xpos[t]+"px";n.top=Ypos[t]+"px";if(decay
[t])decay[t]--;else r++;if(decay[t]==20)n.fontSize="14px";else if(decay[t]==7)n.fontSize="5px";else if(decay[t]==1)n.visibility="hidden";Xpos[t]+=dX[t];Ypos
[t]+=dY[t]+=1.25/intensity[e]}if(r!=bits)setTimeout("bang("+e+")",speed)}function stepthrough(e){var t,n,r;var i=Xpos[e+"r"];var s=Ypos[e+"r"];Xpos[e+"r"]+=dX
[e+"r"];Ypos[e+"r"]-=4;if(Ypos[e+"r"]<bangheight[e]){n=Math.floor(Math.random()*3*colours.length);intensity[e]=30+Math.random()*4;for(t=e*bits;t<bits+bits*e;
t++){Xpos[t]=Xpos[e+"r"];Ypos[t]=Ypos[e+"r"];dY[t]=(Math.random()-.5)*intensity[e];dX[t]=(Math.random()-.5)*(intensity[e]-Math.abs(dY[t]))*1.25;decay[t]=32+
Math.floor(Math.random()*16);r=stars[t];if(n<colours.length)r.style.color=colours[t%2?colour[e]:n];else if(n<2*colours.length)r.style.color=colours[colour[e]];
else r.style.color=colours[t%colours.length];r.style.fontSize="24px";r.style.visibility="visible"}bang(e);launch(e)}stars[e+"r"].style.left=i+"px";stars[e+"r"]
.style.top=s+"px"}function set_width(){var e=999999;var t=999999;if(document.documentElement&&document.documentElement.clientWidth){if(document.document
Element.clientWidth>0)e=document.documentElement.clientWidth;if(document.documentElement.clientHeight>0)t=document.documentElement.clientHeight}if(typeof 
self.innerWidth!="undefined"&&self.innerWidth){if(self.innerWidth>0&&self.innerWidth<e)e=self.innerWidth;if(self.innerHeight>0&&self.innerHeight<t)t=
self.innerHeight}if(document.body.clientWidth){if(document.body.clientWidth>0&&document.body.clientWidth<e)e=document.body.clientWidth;if(document.body.
clientHeight>0&&document.body.clientHeight<t)t=document.body.clientHeight}if(e==999999||t==999999){e=800;t=600}swide=e;shigh=t}var bits=80;var speed=33;var
 bangs=5;var colours=new Array("#03f","#f03","#0e0","#93f","#0cf","#f93","#f0c");var bangheight=new Array;var intensity=new Array;var colour=new Array;var 
Xpos=new Array;var Ypos=new Array;var dX=new Array;var dY=new Array;var stars=new Array;var decay=new Array;var swide=800;var shigh=600;var boddie;window.onload
=function(){if(document.getElementById){var e;boddie=document.createElement("div");boddie.style.position="fixed";boddie.style.top="0px";boddie.style.left="0px";
boddie.style.overflow="visible";boddie.style.width="1px";boddie.style.height="1px";boddie.style.backgroundColor="transparent";document.body.appendChild(boddie);
set_width();for(e=0;e<bangs;e++){write_fire(e);launch(e);setInterval("stepthrough("+e+")",speed)}}};window.onresize=set_width//]]></script>
Upper jo Code diye huwa hai us Code ko copy kar le.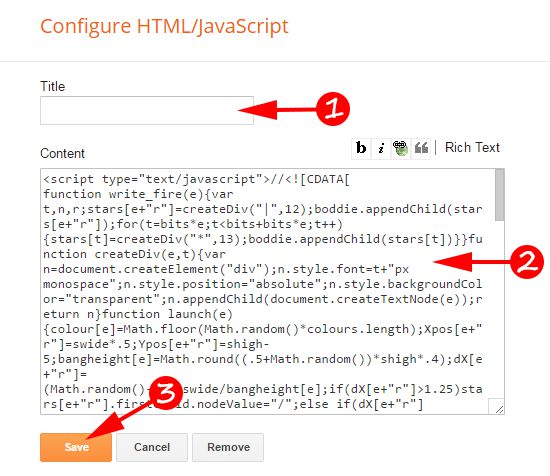 1. Is field ko app blank hi rahne de.
2. Yaha aap copy kiye huwe code ko paste kar de.
3. Ab aap save ki button pe click kar de.
Ab app ka Aatish bazi widget app ke blog me add ho chukka hai. To dekha aap ne Aatish bazi widget apne blog me add karna kitna simple hai.
App Ye Bhi Padhe  –
Agar aap ko blog ya internet se related koe problem hai to aap hume comment kar ke puch shakte hai. App ki madad kar ke hume bahut khushi hogi.
लेख पसन्द आयी हो तो – Please share this post on Social Media :