Hellow friends aaj hum log janege ki Blog Me Recent Comment Widget Kaise Add Kare. Mai aap ko pahle hi bata chukka hu ki. Aap apne blog me Social Follow Button Widget, Category Widget aur Popular Post Widget kaise add kare. Recent comment widget bhi aap ko blog ki traffic badhane me help karti hai. Waise bhi comment blogging ka ek bahut hi important hissa hai. Kyu ki comment ke dura hi aap apne readers ke saath contact me rahte hai.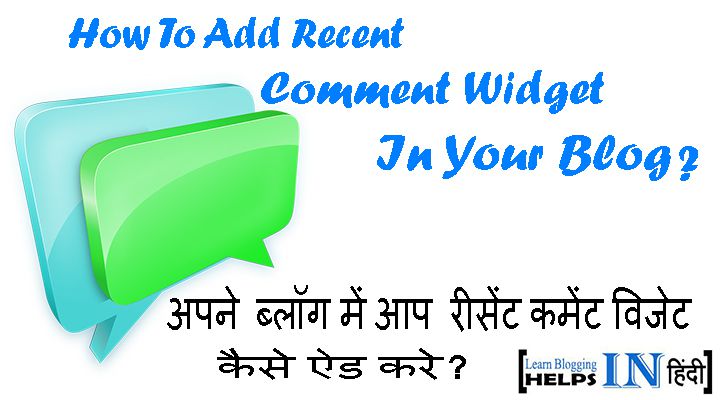 Blog me comment widget lagana bahut hi easy hai. App ko bus kuch code apne blog me past karne hote hai. To phir chaliye ab hum log kuch simple steps follow kar ke. Apne blog me recent comment widget add kar lete hai.
Blogger Blog Me Recent Comment Widget Kaise Add Kare Step by Step…….
Step 1: Sabse pahle blog ke Dashboard par jaye uske baad aap Layout pe click kare.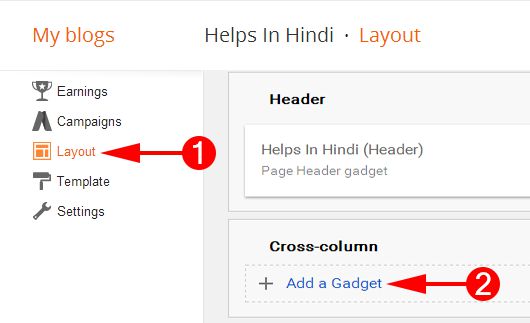 Yaha app jis jagah par Recent Comment Widget add karna chahte hai. Us jagah par ja kar Add a Gadget ke upper click kare. Add a Gadget pe click karte hi aap ke samne ek new window open ho jayega.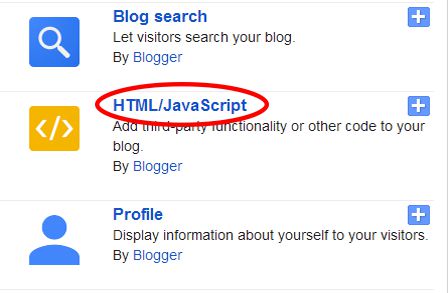 Yaha app HTML/JavaScript pe click kare.
Step 2: HTML/JavaScript pe click karne ke baad. Jo window open huwa hai us me aap ko kuch code paste karna hai.
<script>
function showrecentcomments(e){for(var t=0;max_comments_rc>t;t++){var r,n=e.feed.entry[t];if(t==e.feed.entry.length)break;for(var i=0;i<n.link.length;i++)
if("alternate"==n.link[i].rel){r=n.link[i].href;break}r=r.replace("#","#");var a=r.split("#");a=a[0];var c=a.split("/");c=c[5],c=c.split(".html"),c=c[0];
var s=c.replace(/-/g," ");s=s.link(a);var l=n.published.$t,m=(l.substring(0,4),l.substring(5,7)),o=l.substring(8,10),u=new Array;if(u[1]="Jan",u[2]="Feb",
u[3]="Mar",u[4]="Apr",u[5]="May",u[6]="Jun",u[7]="Jul",u[8]="Aug",u[9]="Sep",u[10]="Oct",u[11]="Nov",u[12]="Dec","content"in n)var d=n.content.$t;else if
("summary"in n)var d=n.summary.$t;else var d="";var v=/<\S[^>]*>/g;if(d=d.replace(v,""),document.write('<div class="rc-comments">'),1==display_date_rc&&
document.write("On "+u[parseInt(m,10)]+" "+o+" "),document.write('<span class="author-rc"><a href="'+r+'">'+n.author[0].name.$t+"</a></span> commented"),
1==display_title_rc&&document.write(" on "+s),0==comment_length_rc)document.write("</div>");else if(document.write(": "),d.length<comment_length_rc)document.
write("<i>&#8220;"),document.write(d),document.write("&#8221;</i></div>");else{document.write("<i>&#8220;"),d=d.substring(0,comment_length_rc);var p=d.
lastIndexOf(" ");d=d.substring(0,p),document.write(d+"&hellip;&#8221;</i></div>"),document.write("")}}}
</script>
<script style=text/javascript>
 /* Yaha Option Edit Kare */
 var max_comments_rc = 6;
 var display_date_rc = false;
 var display_title_rc = true;
 var comment_length_rc = 80;
</script>
<script src=/feeds/comments/default?alt=json-in-script&callback=showrecentcomments></script>
<style type="text/css">
 .rc-comments {
 border-bottom: 1px solid #D0D0D0;
 padding: 10px 0;
 }
</style>
Upper diye huwe code ko copy kar le.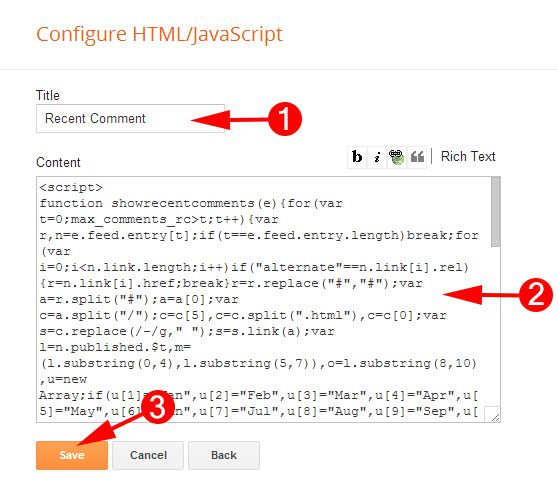 1. Yaha aap Recent Comment likh de.
2. Yaha aap ne upper se code copy kiya hai use paste kar de.
3. Code paste karne ke baad save kar de.
Ab app ka Recent Comment Widget blog me add ho chukka hai. To dekha aap ne recent comment widget apne blog me add karna kitna aasan hai.
Ye Bhi Padhe –
Agar aap ko is post related koe problem aati hai to aap hume comment kar ke puch shakte hai.
लेख पसन्द आयी हो तो – Please share this post on Social Media :